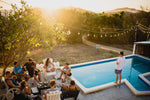 Whether you call it a "staycation", a "holistay", or a "mini-break", now, more than ever, we are all looking for creative ways to relax and enjoy time with close friends and family. The "staycation" was originally coined in 2003, but since then has evolved into a very deliberate way of spending personal time that doesn't include airports, cruise ships, or crowded tourist destinations.
Accelerated by the coronavirus, over 70% of people didn't take their traditional summer vacations in 2020, instead opting to stay home. And projections are that this trend will continue indefinitely as people are finding creative ways to turn their backyards into relaxing vacation resorts complete with pools and spa-type amenities. As you plan your backyard oasis, consider these top 10 ideas guaranteed to take your retreat to the next level:

1. Find the Perfect Theme
Whether it's a lush tropical paradise complete with a tiki bar or a baseball-themed sports hang-out with big screen TV, choose a theme that speaks to your interests. Once you have your theme picked out, the rest will start to fall into place.
2. Lighting Sets the Mood
The options for lighting are seemingly endless today. From café string lights over gathering areas to floods used for dramatic up-lighting around outside foliage or fencing, there are fantastic ways to create or stage your outdoor living area that will remind you of the finest hotels and restaurants. And don't forget the open flame of candles, fire pits, chimeneas, or torches, where each can be used to add to the luxurious ambiance and mood.
3. Style Your Pool Like a Resort or Spa
As people cocoon at home, pool installations have skyrocketed throughout 2020 and into 2021. The demand for luxury resort-like details has boomed as well. The choices are breathtaking: vibrant pool liners in gorgeous patterns and colors, matching float covers, beach towels, and pillow covers allow you to customize your outdoor retreat to perfection.
4. Mix Up Your Seating
Given the space, it's always a great idea to create multiple seating areas. Areas for conversation and entertaining, areas for dining, and areas meant for relaxing and lounging in the sun are great ways to provide a multi-use space with something for everyone. Try hanging or swinging benches for something fun and relaxing – who doesn't love to swing!
5. Create Some Shade
Mobile or stationary, or a mix of both, shade adds to the relaxation factor ten-fold. A fixed pergola can be a gorgeous way to reduce the heat in a dining area or conversation gathering. Umbrellas with stands can be positioned wherever needed at a moment's notice and can be used in multiples to create an oasis in the sun. And don't forget, a pool cabana with matching pillows and towels might be the perfect choice to add to your elegant resort theme.
6. An Area for Refreshment
You can't entertain without some adult libations and there are so many ways to be sure you're prepared. Try setting up a tiki bar with grass roof and glasses shaped like pineapples. A mobile drink cart can be a perfect solution and is very mid-century modern or vintage Frank Sinatra. And while you're at it, don't forget the specialty cocktails, martini shaker, and tiny umbrellas!
7. Add an Outdoor Movie Theatre
Who doesn't love the idea of watching a romantic comedy outdoors under the stars? Today, there are mini-projectors available that can wirelessly stream any movie you want as well as the latest episode of your favorite show. Also, there are also tons of options for screens or you can use the side of a building. Just add popcorn and soda and you can entertain the entire neighborhood. Up for a nighttime screening of "Jaws" from the safety of your float in the pool?
8. Outdoor Kitchens
This is an idea where you can spend a lot of money on professional contractors and top-of-the-line appliances…or you can approach it more rustically with a grill next to the rolling bar cart. Anyway you do it, there is nothing like cooking outdoors. It seems like the flavors and colors are more vivid and there's always laughter and good times. Before you know it, your house will be hosting neighborhood "Taco Tuesdays" with a do-it-yourself Margarita Bar – all properly social distanced, of course!
9. Splurge on Gorgeous Foliage
Whatever climate you live in, visit your local nursery and see what they have that makes a statement! Add stunning container gardens and mix in some tabletop arrangements and you have a real luxury outdoor retreat. If you don't want to hassle with watering (and the gardener is out), you can try silk plants, but they will last longer if kept out of the sun.
10. Add a Water Feature or a Fire Pit
Water features, like fountains or ponds, create interest and add a soothing sound of trickling water which adds to the relaxing environment you're creating, while fire pits bring an energy and spark to the proceedings and are a terrific gathering place when entertaining. Either can add to the feeling of being in a special place.
Coming Up with the Perfect Plan
Now that you have some ideas for creating an elegant getaway right in your own backyard, take the time to plan what you want and how you are going to use the space. And remember – it will be a work in progress. There may be things you want to add later that you haven't even thought of yet. That's the beauty of designing your own customized paradise right in your own backyard.
Check out our Backyard Accents at Shopify.com today!