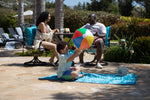 Having a beautiful backyard doesn't have to be complicated. With a little creativity, you can create a stunning outdoor space. One way to spruce up your backyard is to install a beautiful Luxury Pool Liner with matching accessories. Pool Liners come in a variety of colors, patterns, textures, and some with special effects. You can find a variety of choices at Loop-Loc that fits your style. Once you've installed your Luxury Pool Liner, you can add matching accessories from Loop-Loc's other division, Backyard Accents. 
 Choosing LOOP-LOC Luxury Pool Liners 
 Your backyard is a reflection of your personal taste and style. So why not choose a Luxurious Pool Liner that will make a statement? Loop-Loc's Luxury Pool Liners are made from the highest quality materials. We offer a wide range of options and a more extensive line than other leading manufacturers. Plus, they're durable and easy to maintain. This can also transform an older pool into an updated, luxurious swimming oasis. 
 Complete the Pool Area with Adding Backyard Accessories 
 More people opt for a staycation as time at home has skyrocketed in recent years. The easiest way to transform your backyard into a five-star resort is with unique decorations and the right accents. When it comes to accessories, Loop-Loc's Backyard Accents has you covered.
 Loop-Loc offers stunning designs that match our beautiful Luxury Pool Liners to give your backyard an ultimate resort feel. Add a few matching pillow covers, plush towels, or designer pool float covers for exquisite outdoor lounging.  
 Beautifying with final touches 
From stylish outdoor furniture to adding outdoor rugs, patio umbrellas, and poolside chaise lounges; These are all great ways to enhance a touch of style to your backyard. And don't forget about those finishing touches like lighting and landscaping. By carefully selecting the right design, you can create a backyard that is both beautiful and functional. Accessorizing is crucial for turning your backyard into a spot you'll never want to leave. Visit our website: www.BackyardAccents.com for more information and to choose from a variety of luxury accessories to make your pool area and backyard unforgettable.